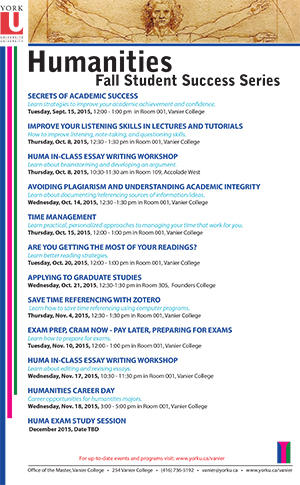 The Department of Humanities in partnership with the Master's Office in Vanier College hosts the Humanities Student Success Series—a series of workshops in the fall and winter terms offered to prepare our Majors for success within the program and success following completion of the program.  Ask your Humanities professors about the bonus program and how you can earn up to five bonus points for attending workshops in the series.
Getting to Know the Humanities Major
Studying for Humanities: What Successful Students Do
Humanities Exam Peer Group Studies Sessions
Humanities Library Research Workshop
Humanities Essay Writing Workshop
Study Secrets: Tips For University Success
Improve Your Listening Skills In Lectures and Tutorials
Avoiding Plagiarism and Understanding Academic Integrity
Time Management Workshop
Are You Getting The Most From Your Readings?
Humanities, The Next Step: Choosing Your Courses
Exam Prep – Cram Now – Pay Later
Are You Getting The Most From Your Lectures And Tutorials?
Graduate Studies Information Session for Upper-Level Humanities Majors
Applying to Graduate Studies
Is This Career Right For Me?
What Can I Do With My Humanities Degree?